Batu Caves Lord Murugan Temple in Malaysia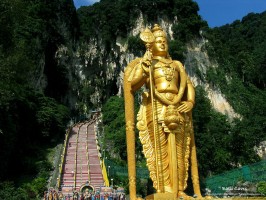 Batu Caves Lord Murugan Temple is one of the most famous temple in the world. Since, I am a strong devotee of Lord Murugan, this is the only temple which I will go with my husband at least a month.
I have noticed that the number of tourists who are visiting this wonderful temple is increasing day by day.Although this is a Lord Murugan's Temple, the Malaysian government has recognized this place as one of the attractive tourism location in Malaysia. This is simply because of the structure of the temple which is located in the limestone hill with 272 steps.
Everyday we can see a lot of excursion buses parked over there. Tourists from all over the world are visiting this temple and we are always surrounded by a crowd of worshipers who come to pray and see our Lord Murugan.Batu Caves will have a huge crowd especially during the Hindu festivals. One of the famous festival is Thaipusam.
Just imagine, we don't have space to walk through also, on the Thaipusam day. That shows how crowd Batu Caves will be on the day of Thaipusam. During this day, all the devotees, worshipers and even tourists visit this temple and we can see the hawkers selling their things with a good deal.
Once done our prayers on the top of hill, the shops are the next target of mine. I love to bargain the prices and buy the clothes with cheapest rate. The snacks and sweets attract my husband always and he loves to buy a variety of sweets. Laddu is his favourite Indian sweets which is in sphere shape with yellow or orange in colour.
Batu Caves is an upcoming tourism location and a fantastic Lord Murugan temple that I love to go always and forever.

Comments
You must
login
to post comments.