Jeddah Fountain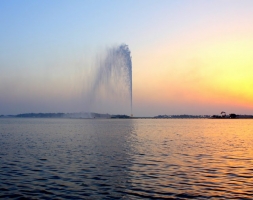 King Fahd's Fountain, also known as Jeddah's Fountain, is the tallest water fountain in the world. It dominates the skyline of the city of Jeddah, the commercial capital of Saudi Arabia and the wealthiest city in the Middle East and western Asia, located on the coast of the Red Sea.
The fountain was built in the 1980's and is listed in Guinness World Records as the highest water fountain in the world, with a reach of over one thousand feet.
The salt-water fountain was donated to the City of Jeddah by the late King Fahd bin Abdul Aziz.
Visible throughout the entire city of Jeddah, the water fountain consists of a single massive plume of water shooting vertically into the air at a speed of 233 miles per hour. On a calm day the water reaches a height of one thousand and twenty-four feet, higher than Paris' Eiffel Tower (excluding the antenna). At any given moment, the water hanging in the air weighs in excess of eighteen tons (thirty-six thousand pounds)!
Address
: Corniche street, Jeddah, Saudi Arabia
Related News
Comments
You must
login
to post comments.